The rapidly growing Parisian start-up WATT&CO was in search of new work spaces in South-East France, and has chosen to set up its offices in Châteauneuf-de-Gadagne. This decision was based on the assets of the region and was facilitated by the support of the Vaucluse Agency for Economic Development.
The design-led supplier of charging and electrical connection products and accessories is currently the only company of its kind nationally and is present in some 2,000 retail outlets across the whole of France.
ECONOMICAL, INTELLIGENT AND STYLISH DESIGNS
Specialising in charging and electrical connection products, WATT&CO combines functionality, design and energy economy.
Since its inception in 2010, the company has been designing and developing ranges of unique electrical connection products (mobile phone chargers, power strips with USB ports and extension cords, for example).
What can you expect from its product ranges? You'll find ready-to-connect electrical connection products, in many shapes and colours. "We wanted to create products that would have minimal environmental impact. That's why we wanted to make them intelligent.
Some mobile phone chargers cut off the power supply themselves once they are recharged. Others have built-in standby cut-off systems, which enable you to economise further. These may seem like minor features, but when strung together, the user consumes less electricity", explains Dominique Picard, founder of WATT&CO

In brief
The company is reinventing electrical connection technology and exploring new ways of harnessing it. Plugs become chargers and interlock with rotating heads, for example, with designs that are smart, economical and stylish.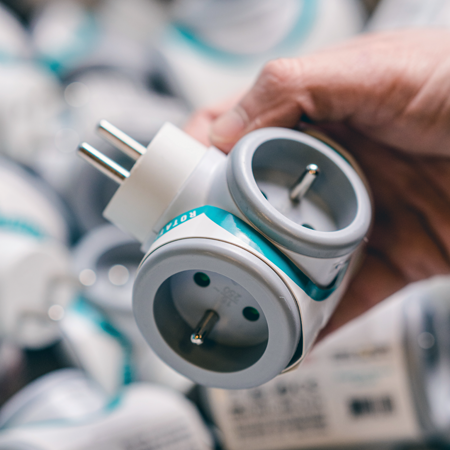 A word from the founder
We also wanted to develop electrical connection technology that was very much design-led, and that could be integrated into an existing family or professional multimedia environment.
For each new design we embarked on, we asked ourselves what additional functionality we could bring to it.
All the products are designed in this way, in France. There is also a benefit when it comes to shared connected devices, as our products can help to reduce the amount of wasted energy.
TO CONNECT WITH THE VAUCLUSE IS TO LOVE IT
When made aware of WATT&CO's search for premises, the Vaucluse Economic Development Agency (now known as VPA) approached the company in order to showcase the benefits of locating in the region.

"We had three requirements: a direct link to the capital, which we have with the TGV station; decent road infrastructure
and broadband coverage" recalls Dominique Picard.
After passing the preliminary checks, the company followed VPA's lead when it came to viewing potential sites. Presentation of sites, economic
aid, membership of the Capénergie centre of excellence, and also a survey of the region and its natural spaces. "The Agency assisted with the company's search for premises and then with the accommodation needs of its employees, which was a significant help to us", emphasises Dominique Picard. "They opened up their contacts book to us. Overall, I liked the operational and practical aspect
of the support".
A member of the regionally renowned Capénergie centre of excellence, WATT&CO is pursuing growth and international expansion. To be continued.
Watt&Co in Figures
year the company set up in the Vaucluse