Game Academy, video game design
Game Academy in Avignon has been training those looking to work in video game production through a 4-year undergraduate course. Game Academy is more than an establishment, as the students and lecturers also form a united group. It is also and more than anything a dream come true for Kévin Vivier, who wanted to set up this school in the town that means a lot to him.
In the beginning, there was Kévin and his project: to create the school of his dreams
When Kévin was studying to become a Game Developer, he experienced what all students fear: too many in the class, teaching and equipment problems, a lot of conditions that meant he could not study and work on his diploma in the best circumstances.
He likes to define himself as a "Southerner", someone from the South of France, and take the crazy initiative to set up a school in Avignon, the city that means a lot to him, but also because this city of culture, at the crossroads of the Provence-Alpes-Côte d'Azur, Auvergne-Rhône Alpes and Occitania / Pyrénées-Méditerranée regions, provides a pool of job prospects for students, who can go on to work in the Gaming field of course, but also anything that deals with graphic design, communication or advertising.

For the teaching team, he looked to former students from his school, and friends, who all signed up for the adventure enthusiastically. The school was gradually formed with a small number of students per class, quality teaching, a positive, benevolent atmosphere.
He wrote his business plan, set up partnerships, did everything for his project to become reality.

That happened in 2017, and ever since Game Academy has made itself a name among the reference schools in Gaming.

DIY by Game Academy!
Painting the premises, setting up custom-made offices to meet needs…: Kévin, his family, friends… Everyone helped out (during the school holidays) so that the premises were ergonomic, welcoming, friendly. With a special mention for the snack bar where everything is prepared on site everyday with fresh products.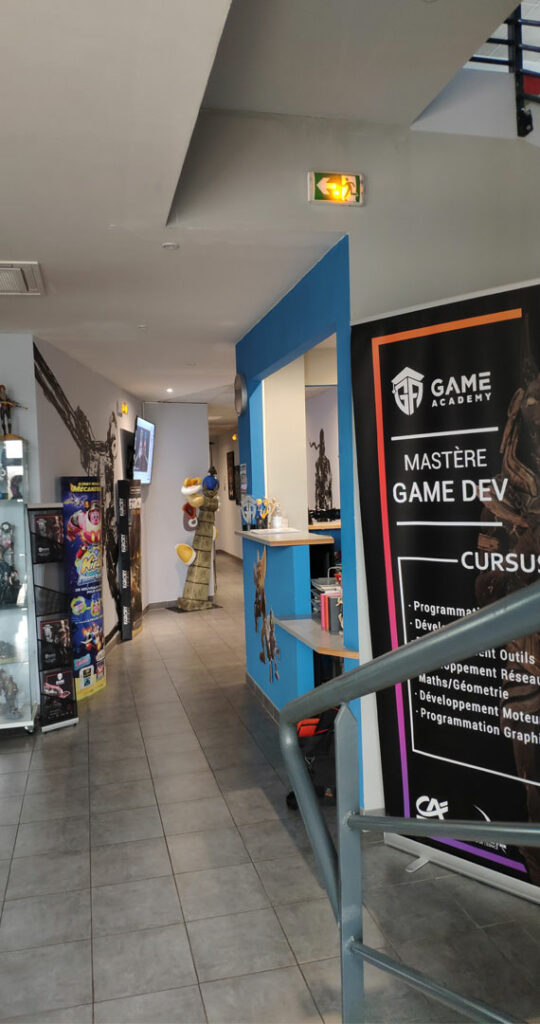 A school with 2 full courses: Game Developers and 2D/3D Game Artists
Game Academy can be applied for after secondary school with an application file, interview and tests. It trains video game designers, Game Developers and 2D/3D Game Artists on a 1000 m² campus fitted with the latest equipment dedicated to learning about the video game sector in a decor of frescos representing life-size video game characters.

At Game Academy, students benefit from a full training course, but with practical application in particular meaning they can be employed as soon as they finish studying. During their course, students experience professional situations by working in teams on various projects, which they undertake in the same conditions as those in companies. The vocation is to train skilful students who are ready for the professional world.

Everything is therefore done to stimulate creativity and maintain students' passion for the universe which will be their profession when they graduate.

Unexpected mascots!
Game Academy has 2 mascots, and whereas they might be expected to be video game characters, they are in fact a dwarf billy goat and nanny goat, which Kévin saved from the abattoir, and which live in their own space in the school's grounds. Bouc and Biquette, as the students named them, are enjoying the good live here!
Various job prospects, from Gaming to advertising
Graduates of the Game Academy work in France or abroad, like in the USA, Canada or Switzerland.
There are many job prospects and there is steady demand in the market. They vary according to the chosen course. A computer graphics designer can work as a 2D Graphic Designer, 3D Modeler, 2D/3D animator, Concept Artist, Environment Designer, etc.
When a programmer graduates, they can become a Gameplay Developer, Graphics Developer, Network Developer, AI Developer, etc.
Game Academy students may embark on other careers, like for example "serious gaming" where they use the skills they have developed during their studies to use in companies or organisations that have more precise needs beyond those of general public video games. Sectors such as communication, mobile phone app development or the army need programmers and/or computer graphics designers.
This is why the Game Academy has set up a partnership with the French Air and Space Force through the Orange air base, as part of developing a helicopter flight stimulator.
Game Academy is more than a school, it's a springboard!
Assisting students in making their dream come true takes many forms, beyond the purely educational aspect, particularly financing the course, through two provisions.
The first is thanks to a partnership with Crédit Agricole Provence-Alpes-Côte d'Azur, which is an interest-free €20,000 student loan for the 4 years of the course.
The second, aimed at students and families in difficulty, will be introduced in 2022 with Avignon Game Dev, an organisation supported by the school that was created to raise funds that will be distributed to students as grants (application-based and depending on means).
But the assistance doesn't stop there! Kévin and his team are also in the process of developing a Game Academy incubator which will allow graduates who want to set up their business as a SAS company or their studio, to have free use of facilities and equipment for one year. This gesture is a way for the establishment to help young entrepreneurs.
For Kévin, it means providing as much as possible to each student.
The proof can be seen: the first class to graduate, in 2021, shows a 100% success rate with 85% of students employed as soon as they graduated (some chose to take a year off).

Did you know?
Thanks to partnerships with major groups in the field of banking and IT, students can buy cutting-edge technology equipment at lower prices