Avignon
Courtine Business Park
Courtine Business Park's various phases of expansion cover over 160 hectares of business activities, just a stone's throw from Avignon TGV station and 15 minutes from the motorway interchanges of the A7 Avignon and the A9 Remoulins. The area hosts business centres, as well as industrial, service, technological, and logistics companies, in an environment ideally connected to transport infrastructures.
An economic hub near the historic centre
30 years of development at the service of economic players
Implantée dans un environnement naturel préservé, au confluent du Rhône et de la Durance, la Zone de Courtine est située à proximité Located in a preserved natural environment, at the confluence of the Rhône and the Durance, the Courtine Business Park is located near the historic centre of Avignon. Access to public transport and "la virgule", which connects Avignon Centre station to the TGV station, designed by Jean-Marie Dutilleul and made using glass and wood.
More than 60 TGV trains per day arrive at Avignon station. Constantly being developed since the 1970s, the Courtine business park has become a major economic hub, and generates nearly 5,000 jobs generated.
Le Village des Métiers
Workshops for rental or sale in the Franche Urbaine zone

Located 5 minutes from the TGV station and 15 minutes from the A7 motorway, and spanning 4.5 hectares dedicated to economic activity, 5 fully secured buildings offering 36 modular workshops of 145 m², with 70 m² of mezzanine space, are on offer for sale or rental.
The concrete floor, which can support a load of 1T/m², is suitable for artisanal and industrial activities, and for storage. The buildings have a high environmental quality and are equipped with photovoltaic energy-saving roof panels.
Establishing a business in the Village des Métiers lets you benefit from tax and social exemptions, if certain criteria are met, such as: Income tax, CET (territorial economic contribution,) land tax on built properties, employers' social security subscription.
Location and accessibility
GPS Coordinates
4.768320
43.927143
Find the right industry or business zone
Votre contact privilégié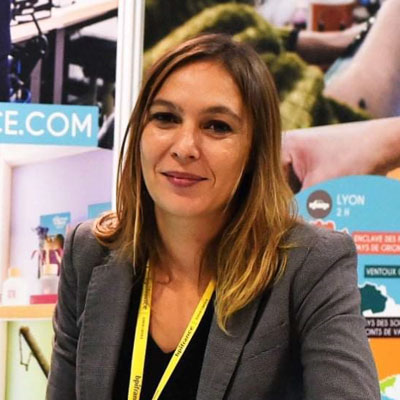 Stéphanie Holmière
Corporate Real Estate and Logistics Project Manager