Sud Luberon -La Tour-d'Aigues
Révol Business Park
The REVOL Business Park is strategically located close to an A51 interchange, allowing quick connection to Aix en Provence, Marseille, Gap and Manosque. It offers excellent opportunities for businesses in the unique setting of the Luberon. Entirely designed and developed with a sustainable development approach in mind, the Business Park is mainly open to businesses in the tertiary and quaternary sectors. It is made up of 27 landscaped lots.
An environmentaly-friendly business park
The Parc+ certification meets environmental quality criteria

The "Ecoparc+ Vaucluse" system judges spaces dedicated to companies according to a criteria of sustainable development which has been recognized by the Parc+ certification and put forward by the ARBE (Regional Agency for Biodiversity and Environment).
This certification of regional excellence adds value to high-quality, attractive business parks, who wish to work in a preserved environment which is pleasant to live in.
It is accessible to internal communities subject to meeting the business park's development, management and organisational criteria. To obtain the certification, the eco-friendly project must take into account all 8 values of the "Cadre de référence régional de l'aménagement et de la gestion durable des parcs d'activités"
It will be applied to sites of economic activities subject to their compliance with the specifications of the Quality Charter. With the establishment of this system, the Department intends to improve the quality of life of companies and employees of the Vaucluse region, as well as local residents. It wishes to strengthen Vaucluse's attractiveness to already-established companies and companies wishing to establish themselves, by encouraging the certification of ageing business parks and by developing new land of economic, technical and environmental excellence.

EQUIPMENT AND SERVICES

Networks
Fibreoptic – Connection to public sewerage system

Transport
Bus

Services
Business services division – Meeting room rental
LOCATION AND ACCESSIBILITY
10 mins from the A51 Pertuis/Aix-en-Provence interchange
30 mins from the Aix en Provence TGV station
5.538858
43.723800
Find the right industry or business zone
Votre contact privilégié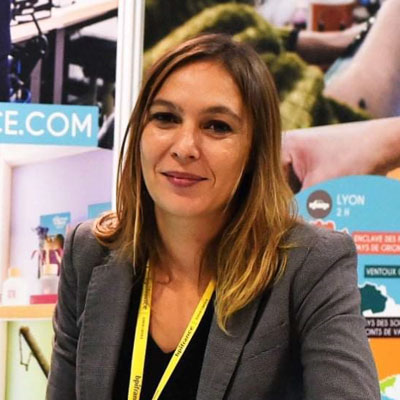 Stéphanie Holmière
Corporate Real Estate and Logistics Project Manager