Vaison-Ventoux – Sablet
Camp Bernard Business Park
In the privileged setting of Haut Vaucluse, the Camp Bernard Business Park
is located near Vaison-la-Romaine, surrounded by renowned vineyards. Served by the D977, it is strategically placed on a busy route, while enjoying the exceptional setting with a panorama of the Dentelles de Montmirail and its villages full of character.
The recent business park is currently being extended and accommodates industrial, artisanal and service businesses. Its companies' ability to develop is reinforced by a fibre optic network, deployed throughout the territory around it.
A HIGH-QUALITY DEVELOPMENT
At the heart of a preserved environment
The Camp Bernard business zone is part of a mainly winegrowing environment, as much from the countryside surrounding it as the companies in the zone. It has been developed several times, enabling great companies to move in or grow. Like the Agapé Groupe or example, which exports internationally and chose this site to grow and set up a factory store accommodating several of its brands, including Plantes et Parfums de Provence.
The syndicate of communes is currently working on two new extension projects (4.2 ha and 2.1 ha). The building permit application filing will start during 2022.
These extensions will provide integration in the countryside and a quality of development which continues what has been carried out on the existing part of the Business Park.
An environmentaly-friendly business park
The Parc+ certification meets environmental quality criteria

The "Ecoparc+ Vaucluse" system judges spaces dedicated to companies according to a criteria of sustainable development which has been recognized by the Parc+ certification and put forward by the ARBE (Regional Agency for Biodiversity and Environment).
This certification of regional excellence adds value to high-quality, attractive business parks, who wish to work in a preserved environment which is pleasant to live in.
It is accessible to internal communities subject to meeting the business park's development, management and organisational criteria. To obtain the certification, the eco-friendly project must take into account all 8 values of the "Cadre de référence régional de l'aménagement et de la gestion durable des parcs d'activités"
It will be applied to sites of economic activities subject to their compliance with the specifications of the Quality Charter. With the establishment of this system, the Department intends to improve the quality of life of companies and employees of the Vaucluse region, as well as local residents. It wishes to strengthen Vaucluse's attractiveness to already-established companies and companies wishing to establish themselves, by encouraging the certification of ageing business parks and by developing new land of economic, technical and environmental excellence.

EQUIPMENT AND SERVICES

Networks
Fibreoptic – Connection to public sewerage system

Transport
Zou! Bus Line 4

Services
LOCATION AND ACCESSIBILITY
20 mins from the A7/A9 Orange interchange
4.996143
44.195480
Find the right industry or business zone
Votre contact privilégié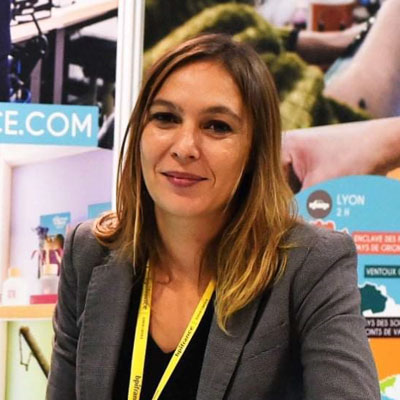 Stéphanie Holmière
Corporate Real Estate and Logistics Project Manager