Ventoux Comtat Venaissin – Carpentras
Bellecour
At the heart of the CARPENSUD business centre, the Bellecour Park
is a high-potential space in Vaucluse mainly dedicated to industrial and agro-environmental sectors: diverse raw material production – vegetables, spices, fruits and vegetables-, sectors of excellence around industrial leaders in processing, natural fragrances and cosmetics. It was developed in three successive phases, Bellecour I, II and III.
A BUSINESS HOSTING SCHEME
Complementary projects to support economic development
This Park, located within the CARPENSUD business centre which covers nearly 133 ha, has many real estate opportunities for sale or rental. It hosts all types of projects but is mainly dedicated to those within the industrial or agro-environmental sectors.
The Bellecour Park also has two hubs that make it a very attractive to businesses: the digital station which extends over 1142m² and which is a space dedicated to new technologies and prototyping, as well as the Marché Gare site which houses two incubators, the first containing food-processing workshops, and the second containing space for tertiary activities. It has also been certified by ECO PARC+ VAUCLUSE, which attests to the quality of the working environment of companies and their employees.
The territory has implemented a "Creative Provence" Territorial marketing strategy, which consists of highlighting companies, developing networks and synergies, and even strengthening the awareness of the territory and its economic players.
An environmentaly-friendly business park
The Parc+ certification meets environmental quality criteria

The "Ecoparc+ Vaucluse" system judges spaces dedicated to companies according to a criteria of sustainable development which has been recognized by the Parc+ certification and put forward by the ARBE (Regional Agency for Biodiversity and Environment).
This certification of regional excellence adds value to high-quality, attractive business parks, who wish to work in a preserved environment which is pleasant to live in.
It is accessible to internal communities subject to meeting the business park's development, management and organisational criteria. To obtain the certification, the eco-friendly project must take into account all 8 values of the "Cadre de référence régional de l'aménagement et de la gestion durable des parcs d'activités"
It will be applied to sites of economic activities subject to their compliance with the specifications of the Quality Charter. With the establishment of this system, the Department intends to improve the quality of life of companies and employees of the Vaucluse region, as well as local residents. It wishes to strengthen Vaucluse's attractiveness to already-established companies and companies wishing to establish themselves, by encouraging the certification of ageing business parks and by developing new land of economic, technical and environmental excellence.

EQUIPMENT AND SERVICES

Networks
Fibreoptic – Connection to public sewerage system – gas

Transport
Bus

Services
Restaurants – LGV rental – Bakery – Post office
LOCATION AND ACCESSIBILITY
13 mins from the A7 motorway
30 mins from the Avignon TGV Station
5.037432
44.038159
Find the right industry or business zone
Votre contact privilégié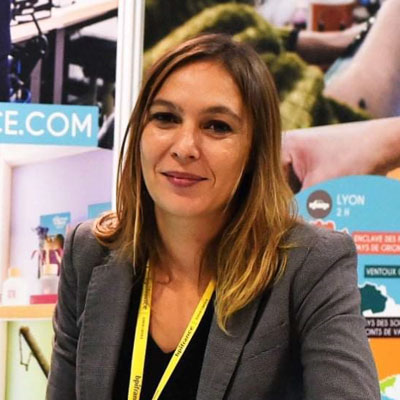 Stéphanie Holmière
Corporate Real Estate and Logistics Project Manager