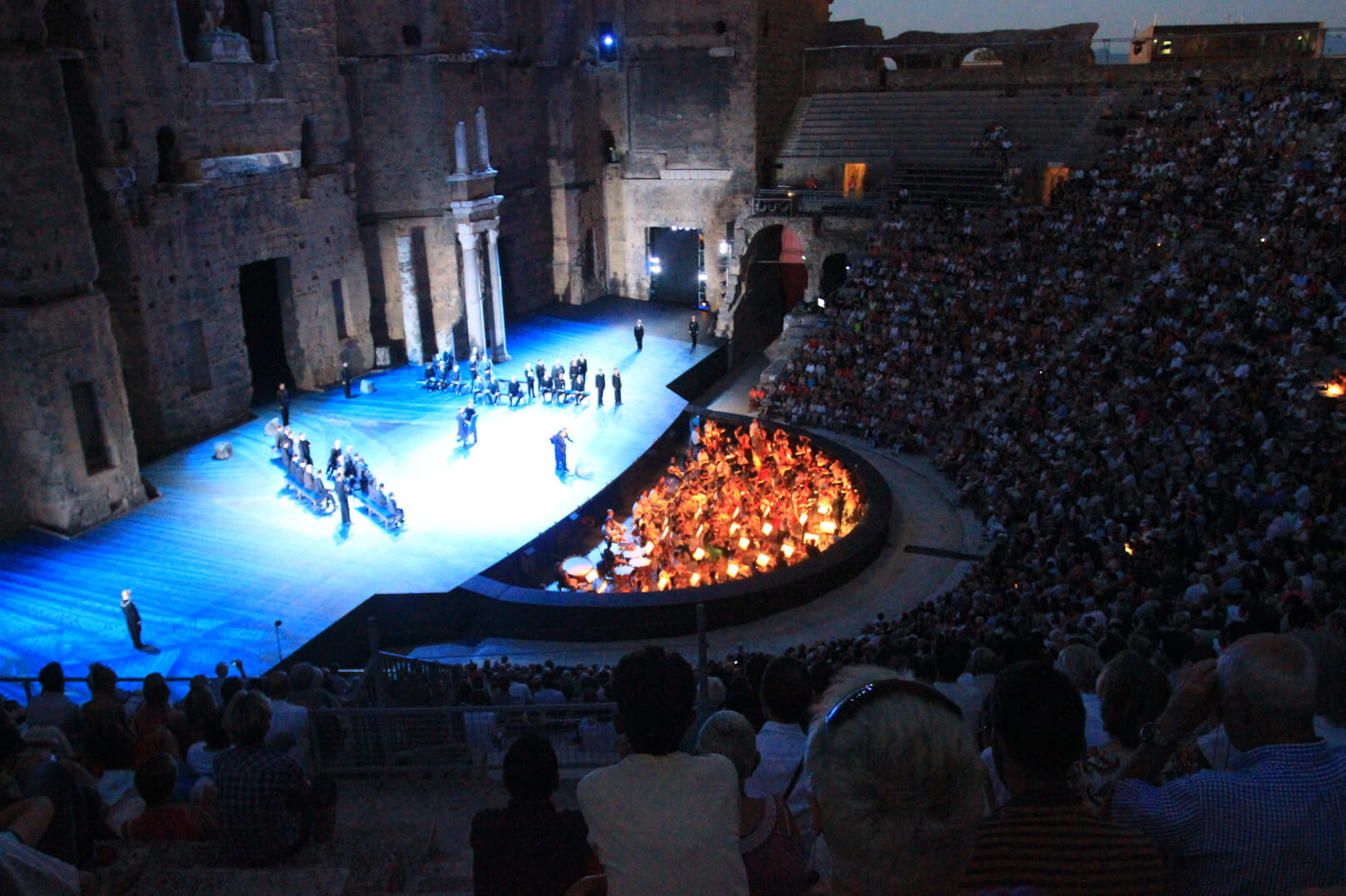 Major events
An international cultural scope
The FESTIVAL D'AVIGNON
Founded in 1947 by Jean Vilar, the Festival d'Avignon is today one of the most important international contemporary performing arts events.

Every year in July, Avignon becomes a theatre-city, transforming its architectural heritage into various places of performance, majestic or astonishing, and welcoming tens of thousands of theatre lovers of all generations (more than 130,000 admissions).
Often on holiday and coming from far away, many spectators spend several days in Avignon in order to view some of the shows among the forty or so works of theatre, dance, as well as visual arts or music.

The Festival succeeds in creating an original alliance between a popular audience and international creation. Avignon is also a place of spirit: the city becomes an open-air forum, where festival-goers talk about shows and share their experiences as spectators. For a month, everyone can have access to a contemporary and spirited culture.
THE FESTIVAL D'AVIGNON « LE OFF »
For your information
Based around the IN festival, a more spontaneous theatrical space has been developed, "invented" in 1963 by André Benedetto.
The greatest theatre in the world

The «OFF» festival, which first drew its vigour from the spirit of 1968, continued its expansion by investing in almost 100 Places, which have sometimes been ingeniously transformed into reception spaces.

The OFF, an alternative festival, has become an indisputable reality in the national cultural landscape. It is one of the largest festivals of independent companies in the world, given this title because of the richness and diversity of its cultural offerings.
The "World's Largest Theatre" brings together 975 companies, 1,161 shows and more than 25,000 performances.
LES CHORÉGIES D'ORANGE

Did you know?
The Chorégies d'Orange is the oldest French festival today, dating from 1869.
Over the years, the Choregies have been able to retain every ounce of their originality: from the name they bear, originating from the Greek «choreos», which thus ties them to the Greco-Latin tradition; to festival's location each summer: the perfectly preserved Antique Theatre, with a capacity of 8600 people and which has the privilege of having kept its «Stage Wall», which guarantees exceptional acoustics; as well as the lyrical and musical vocation that they have given themselves and that allows them to be at the head of the major French festivals, coupled with their undeniable international reputation.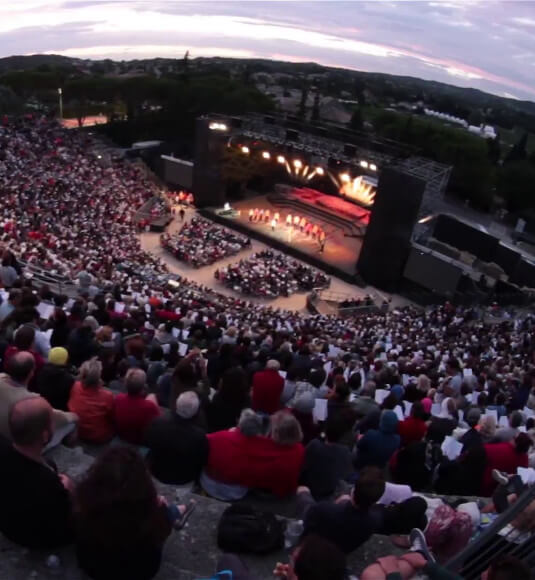 LES CHORALIES DE VAISON LA ROMAINE

Did you know?
The first festival took place in 1953.
A festival that takes place every three years, 'Les Choralies' is a choral festival that brings together nearly 5,000 singers and musicians, amateurs and professionals.
LES HIVERNALES D'AVIGNON
Les Hivernales d'Avignon is a dance festival created by Amélie Grand. In addition to choreographic performances, it offers workshops, exhibitions, screenings, meetings and the «Forum Libre Danse» reserved for young companies. This is the No.2 event in Avignon after the Festival.
For your information
Les Hivernales are a «Centre de développement Choréraphique» (centre of choreographic development)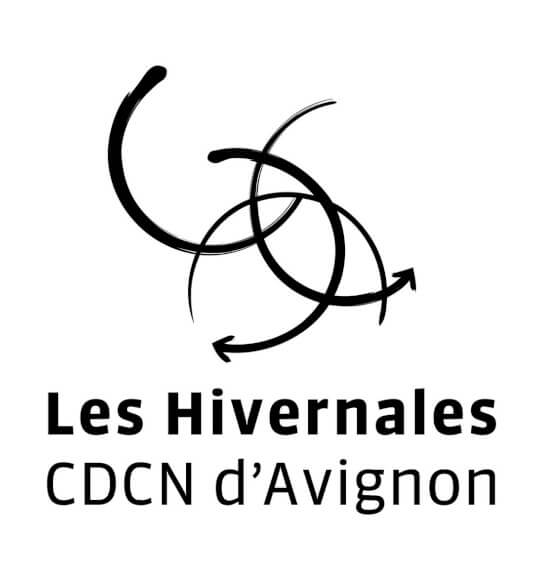 CHEVAL PASSION
More information
250 exhibitors and all new products, kit and equipment, for riders and their mounts.
In January, Avignon becomes the international capital of the equestrian world, hosting one of the biggest events around the horse in Europe. More than 100,000 visitors each year. More than a thousand horses, activities, contests and breeding shows to discover all the wonderful breeds.
THE LACOSTE FESTIVAL
Created by Pierre Cardin twelve years ago in the unusual, surprising and unforgettable location of the quarries of the castle of the Marquis de Sade, this festival dedicated to theatre and opera offers the public a chance to discover young singers at the dawn of a promising career, but also an introduction to opera.
Frames Festival
The Frames Festival is an Avignon-based festival whose theme is video creation on Youtube. FRAMES Video Festival is above all a story of encounters between video enthusiasts.
Passionate about videos, passionate about culture and especially passionate about the wealth of the world around us. The Frames Festival is unique to France